We will be making some essential changes to our website hosting which will affect our websites from Friday 6 – Monday 9 December. During this time, this website will not be available.
We thank you for your patience while we work to improve the stability of our websites. For further updates, check our Twitter @HistEnvScot.
We apologise for any inconvenience.
Groups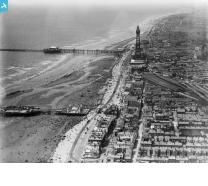 Beside the Seaside
About the group Oh we do like to be beside the seaside! Post your favourite bygone photos here and discuss anything to do with the seaside.
Created 26 June 2012
i lived near Freshwater Bay from 1961 to 1983. Some of the photos on this site show the house where I grew up - surrounded by fields and with a lot of elm trees. Now the whole area has changed. all the fields are built over, the trees disappeared in the late 1970s, but thankfully the house is still there. Unfortunately, I think it's a holiday home. Freshwater Bay stays the same. which is a very good thing. The Arch rock fell down in October 1992, by the way !


Sue Powell

Dear All,

I am researching the history of a fellow botanist, and have received from his family a picture of him on holiday (circa 1930-35) in what I presume is a southcoast seaside location. He had relatives in Bournemouth (but not found a match for the location yet).

Quite a distinctive slope to the beach and a few buildings in the view.

Anyone got any ideas as to the actual location?

Thanks in advance

Mark


Mark Duffell


Where's Canning Town?





Incidentally few photographs of Beach House exist. It was demolished in 1989.


Where's Canning Town?


MLH


MLH


MLH

Theres a photo on here that isnt quite right. The Metropole isnt in the correct position, and what looks like Central Station, isnt either.


tango55

If you are referring to the group photo Tango55, everything looks like it is all in the correct place to me.



Where Central Station is now is just car park park. The road leading straight to the station and the tower is Bonny Street.


Chris

You are correct, the image is reversed.


Malcolm Chilvers





Today the train track is in the same place but the beach is about half a mile away.


BruceR


Sue O


Sue O

Tony Quinlan


Tony Quinlan


Tony Quinlan

Graf Zeppelin over Brighton. 18 August 1931


rsmith

Graf Zeppelin over Eastbourne.18 August 1931


rsmith



They left in 1955 to play a couple of miles away at Roots Hall, where they still are today.


Tony Quinlan



Same facade too.


Tony Quinlan

Chris, this is the image I was meaning, EPW002078. It shows Central Station north of the tower, and the Metropole south of the tower.


tango55





You can see the four or five people on the promenade looking up as the plane passes by to take this photo.


Chris


Chris


Chris


Chris





The Redoubt Fortress was built to deter Napoleon's forces along with the Martello Towers in the early 1800's. The fortress now houses a great museum of the Royal Sussex Regiment.



http://www.eastbournemuseums.co.uk/


Chris


Chris





Now, the promenade continues for at least another mile or so with more hotels and houses and the expanse of sand next to the railway line is all Pleasure Beach.


Chris


Chris


Chris





On the right of the photo in the middle is the Sacred Heart Catholic Church that also hasn't changed and the building that was formerly Yate's Wine Lodge, which sadly burnt down a few years ago.


Chris


Chris





Everything seems so much simpler and more pleasant in this photo.


Chris


Inniebear


Chris